Private Lessons
Whether you're just starting out, at a technique roadblock, or stuck in a rut and looking for new ideas, private lessons are one of the most effective ways to move your playing forward. Karen teaches both in-person lessons in Winnipeg, and online lessons through Zoom or other video conferencing services. Lessons generally focus on three main themes: technique, arranging, and repertoire. Hammer technique and agility can be improved through the use of exercises, rudiments, and tricky tunes, along with a detailed analysis of your grip, posture, and striking approach. Arranging is taught through a thorough understanding of chords and how to incorporate them with melody lines, allowing you to play the tunes you'd like without having to always look for someone else's arrangement. Repertoire can be anything you'd like to learn - arrangements written by other players, folk tunes, classical music, songs you've  heard on the radio, show tunes... the possibilities are endless!  
Lessons can be anywhere between thirty minutes and several hours (students trying to make the most of a visit from out of town often choose longer lesson times), and can be weekly, biweekly, monthly, or sporadically, depending on what works best for you. Contact Karen for more info!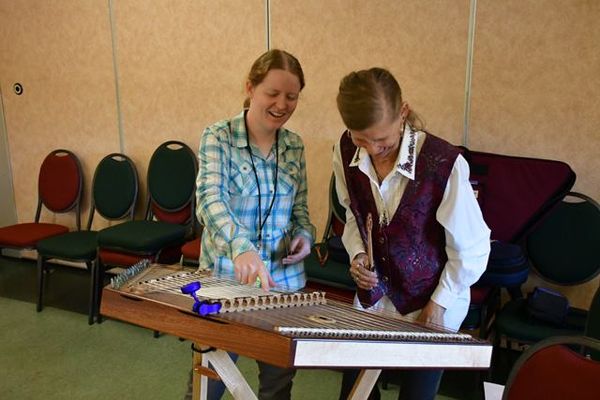 Testimonials
"Karen took me on as student when I was in my late sixties, with very little musical training (and that decades before) and absolutely no apparent talent.  In the space of scarcely more than two years, she turned me into a decent hammered dulcimer player.  I'm not brilliant, but I can go the advanced classes at festivals, play for my friends and occasionally for strangers, get together with musical friends for jams, teach myself almost any tune that I want to learn, and invent an arrangement for a familiar melody.  Most important, I have the capacity now to give myself endless hours of pleasure, hammers in hand; making music has become a part of my life and my identity.  Against all my expectations, I've become a musician. This has been a matchless gift, and I owe it to Karen: to her artistry, her patience, her intelligence, and her insight.  If you are considering taking lessons with Karen, I will tell you in addition only this: you will not be disappointed."
--Mimi W.
"Karen is an ideal teacher for players at any level. She is patient and understanding, and at the same time she holds her students to a high standard. I used to joke with her that she wouldn't let me get away with anything! 
I really appreciate Karen's emphasis on technique, especially hammer control. Learning good technique is the key to everything else. Any teacher can show you how to play a tune. A great teacher shows you how to get the most out of your instrument. The foundation I learned as Karen's student has helped me learn from other teachers as I've built on what she taught me. 
Hearing Karen play was what inspired me to start learning the hammered dulcimer. I'm fortunate to have had her as my first teacher."
--Bob F,